Blog
Rotary Club of Plimmerton
Natone Park is a small, full primary school in Waitangirua that our Club has been associated with for several years. The school has about 90 students of whom Maori comprise the majority with a large number of Pasifika families and Bolivian, Asian, Pakeha and Turkish children making up the remainder.
In the past, we have donated a ceiling mounted projector for their assembly room. Last year two of the Natone Park students attended our Primary School Leadership Awards and received their certificates.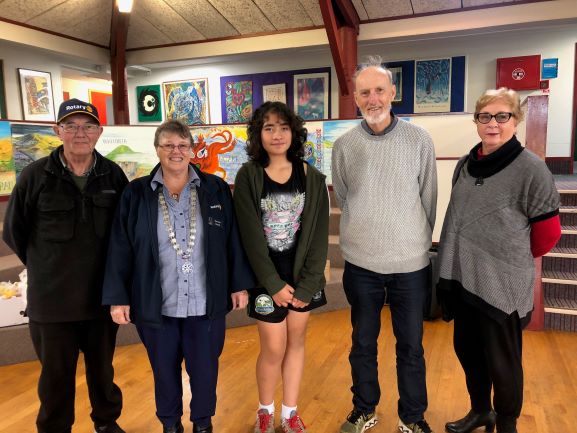 On Friday four members of our Rotary Club of Plimmerton visited the school to officially present the school with sound equipment to enhance the school's communications. We have provided Four British designed portable wireless Hi-Fi audio systems complete with 8 wireless UHF microphones, 2 for the assembly hall and the other to go in the school's classrooms. (Some handsfree clip-on microphones for the children to use are still to arrive.) Just one of these new systems replaced a large dedicated system, now well outdated and so big that it was difficult to shift and therefore rarely used.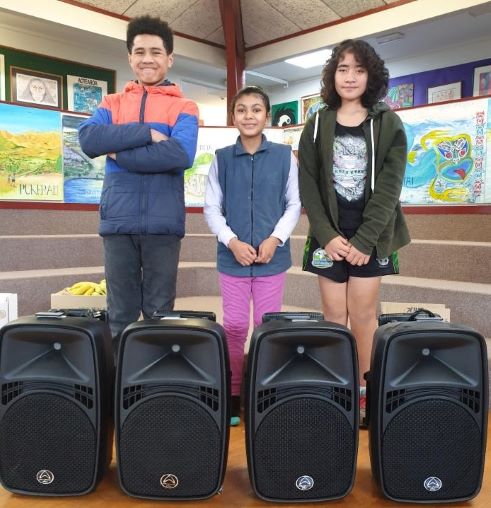 President Donna Reed, Club technical guru Peter Sinke, Youth Director Bill MacAulay and Kay Phillips were escorted from the office to the assembly space by Year 8 students Leslie Fuimaono (left) and Isabella Cardona (middle).
Whaia Ria (Acting Principal Ria Milan) spoke to the assembly about the donation of the speakers before President Donna introduced our little team. Student Ianeta Tinielu (right in the photo on the right) thanked our Club for our gift on behalf of the school.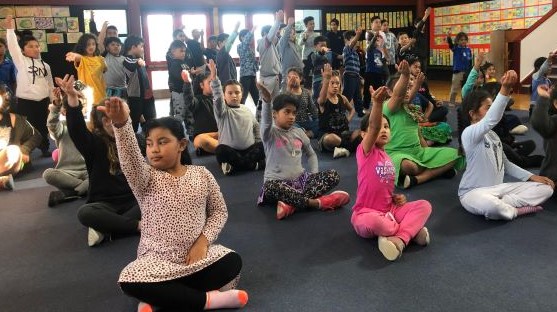 All the students sang us a spirited version of a Samoan pese gaioiga (action song) which they have been learning as part of Samoan Language Week.
It was great to be part of this presentation of speakers to a school that will appreciate and get considerable use out of them.