Blog
Rotary Club of Plimmerton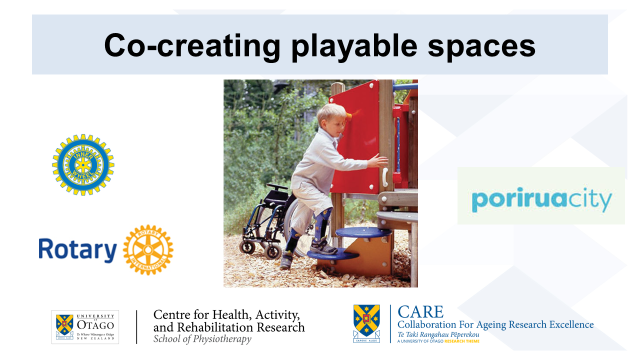 Quite a massive heading for quite a massive project.
Put together four organisations that all have specific skills and a combined desire to see the best possible outcome for our community here in Porirua and you have the amazing project called "Playable Porirua".
This project started as an idea that came from a young girl who asked her grandmother "why can't disabled children play in the playground?" This question, in turn, was asked of me and the wheels started rolling. At that time a member of the Porirua Rotary Club had seen a Mobility Swing and we talked about that as a good idea for Porirua. The Council was very wary but also very interested. At the same time, the University of Otago Physiotherapy Research Team were looking at playable spaces and their value to communities - not just for children but also parents and grandparents.
Over a period of a few years and some hiccoughs from various parties, the project has morphed into a major project for the Porirua City Council which is supported by the two Rotary clubs in the Porirua area – Plimmerton Rotary and Porirua Rotary - as well as the Inner Wheel Club of Plimmerton, with the Research team supporting and guiding from their perspective. The major thrust of the University research and the questions being asked by them are:
"Parks provide a place to be. They should be environments that anyone of any age can access, typically at no or low cost, and provide a sustainable opportunity to increase health and well-being in the population.
"People who access parks and open green spaces often meet recommended physical activity levels, but they also have better health due to:
reduced stress, anxiety, loneliness
elevated mood levels
social connectedness
"Not all of these health benefits come from being active. Just 'getting there' may be all the activity that some people have. In other words, both incidental and intentional green space activity is associated with improvements in physical, psychological and social well-being."
The vision of Porirua City for the project is:
to create a playable city where all children can play together in the region's playgrounds and parks, whatever their abilities or disabilities.
Plimmerton Rotary and Plimmerton Inner Wheel have now undertaken an audit of all the 41 parks in the city and, with some additional audits that Porirua Rotary will do, we have an assessment of the quality of all the parks and how they meet the standards required. We learned from the audits and interviews with both young and old that:
Accessible for children = Accessible for carers and older adults
It's not just about the play equipment
Not every 'one' will be able to use every play feature
But all should be able to enjoy rich play opportunities together
Not many of our play spaces are truly playable
There are some quick and cheap fixes; other fixes will require significant investment
There are now some clear steps to take and, of course, some challenges.
Priorities are:
Playability – it's how we think
Renewals – inclusive design
Retrofitting- destination and community play spaces over neighbourhood
Retrofitting – neighbourhood play spaces
So much interest in this project has taken place that Dr Meredity Perry, Olivia Dowey, Parks Manager Porirua City, Christine Jacobson, Senior Policy Analyst Porirua City and I (Adrienne Murray from Plimmerton Rotary) were invited to attend a Research Impact Conference hosted by the University of Otago. We presented the project as a workshop for the conference. Considerable interest was expressed by the audience comprising Social Research staff, Health Policy Advisors and Council members from around the country.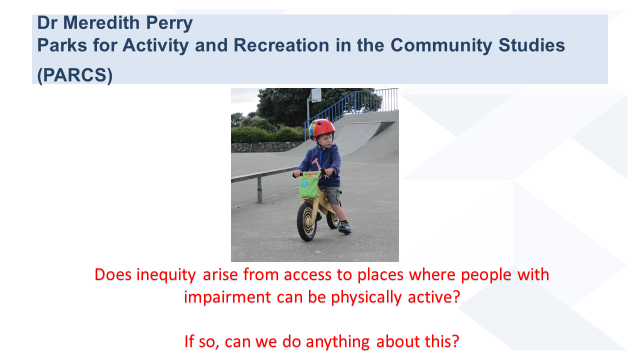 Both Rotary and Inner Wheel are now major partners in what is a significant programme of work for the community we live in. Watch this space! There is plenty of work to do which will leave a lasting legacy for our city.
Playable Porirua - Inclusive, Intergenerational Play - Inspired by the community
Informed by research and the community
Delivered by local government
Funded by PCC, Rotary and Inner Wheel, University of Otago and …..