News
Rotary Club of Plimmerton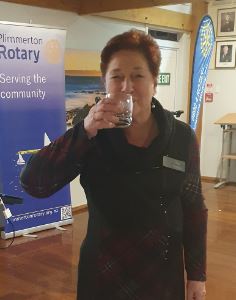 Kay Phillips proposed a toast to the Laddies, and said:
Now it's time for you to listen. So, I'll try to use small words and short sentences, in the hope that your wee capacities won't be unduly challenged. But I'm nae prejudiced – some of my best friends are laddies. So pay attention now.
In his day Robbie Burns was considered a great admirer and supporter of women and held us to be his social and intellectual equals. He is talked about as though he's some sort of Protofeminist. Indeed he even wrote a poem called 'The Rights of Women' which ends,
'But, truce with kings, and truce with constitutions
With bloody armaments and revolutions
Let Majesty, your first attention summon:
Ah! ҫa ira: The Majesty of Woman'.
And Graeme, you have made Burns sound almost a paragon of virtue. Really! – a man who had more illegitimate children and mistresses than most of us have had porridge breakfasts?
However, from the vantage point of hundreds of years later, it seems that Robbie wasn't an innocent lover or advocate of women. He was a straight-up shagger in the Hugh Hefner School of Seduction; a total sex addict long before Tiger Woods invented the concept.
Preaching is one thing, about the intelligence of women and how men should respect them, while at the same time practising his three favourite pursuits – drinking whisky, bedding women, and writing poems like 'Nine Inch Will Please a Lady'. These hardly support the equality of women.
And another thing, Graeme – your toast to us wee lassies was rather short on admiration for the fairer sex. Now I'm not much into the Mars and Venus stuff but I do think we lassies are pretty good at some things, like multi-tasking. But then, so are some of you laddies – like Robbie: at least thirteen children by five women in thirteen years showed he could certainly multi-task!
I've given it lots of thought: and I just canna think of many attributes that you laddies can boast. As our Robbie said:
'When in my arms, wi' a' thy charms,
I clasp my countless treasure, O,
I seek nae mair o' Heav'n to share
Than sic a moment's pleasure, O!'
Can you imagine saying that to a man? No! Burns wrote:
'Wee sleekit, cow'ring tim'rous beastie', and
'Ye ugly creepin, blastit wonner,
Detested, shunned by saunt an sinner' and
'Rough rude men had naughty ways,
Would swagger, swear, get drunk, kick up a riot'
Women say that men don't listen, don't communicate, and are a bunch of numpties. When you're talking about men with a tad of Scots, you have to add that they are also not famous for wearing the pants in the house.
Now I've been told that part of the purpose of this reply is to draw some flattering comparisons between you men and the poetic, Robbie Burns. It's difficult to know where to start. From his portrait, it appears that Burns was a handsome man – so that's out. Hmmm ... I give up.
I'd like to leave you, Lads, with one last thought; though I'm not sure you have anywhere to put it.
Anyway, Here goes: Bless your hearts! Except for those areas of looks, hygiene, and intelligence, you laddies are within a caber toss of average. And we cannae do without ye!
Here's to the Laddies!!