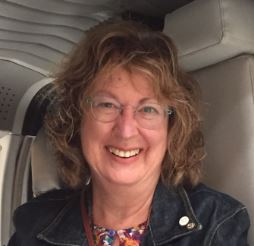 The new President for 2021-2022 is Anne-Marie Garrett. Anne-Marie was born in Wellington and has lived here all her life. She attended St Mary's College, later studying at Wellington Teachers College and Victoria University. She grew up in Tawa and now lives in Whitby. She has three sons who grew up in the Northern Suburbs, later attending college in Wellington City. She is married to Chris, who has been connected to Inner Wheel through Rotary for many years.
Anne-Marie has enjoyed a long career in the teaching profession. She is now semi-retired and enjoys occasional relief teaching. Stepping back from her full-time teaching role has brought opportunities to rediscover many recreational pursuits. She joined Inner Wheel mah jong, craft, and book groups as well as volunteering in many roles.
Having met Inner Wheelers socially, Anne-Marie was encouraged to join Inner Wheel in 2018, enjoying the monthly dinner gatherings, social events and enabling her to make new friends. She joined the committee in 2020, taking on a variety of roles. She has also attended District meetings and functions, broadening her experience and understanding of how national and international facets of the Inner Wheel organisation operate. A recent highlight was attending the national Inner Wheel Conference in Queenstown, interacting with members from all over the country.
This year's international Inner Wheel theme is 'Pink First: Stronger Women - Stronger World'. Anne-Marie is looking forward to her year as President, promoting fun through friendship and volunteering to improve lives and strengthen community connections.