Blog
Rotary Club of Plimmerton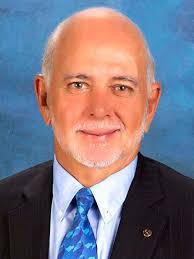 Dear fellow Rotarians
As I look back on all the things I have seen and the people I have met since becoming president of Rotary International last July, I am certain of this: Rotary's capacity to transform lives for the better is unparalleled. Our impact is far beyond anything I could have imagined when I first became a Rotarian.
I think about the Rotarians I met in Pakistan, who partnered with Coca-Cola to improve sanitation in Karachi's neighborhoods while supporting polio eradication efforts. I think about the Puerto Rican Rotarians who are helping entire communities rebuild their lives after Hurricane Maria. I think about the German Rotaractors who are working to save bees – whose role as pollinators is so important to our planet – from extinction. I think about the six Rotarians and Rotaractors who were honored as People of Action: Young Innovators at Rotary Day at the United Nations in Nairobi, Kenya, in November for their work to create novel solutions to tough challenges.
It seems like only yesterday that I stood on a stage in San Diego and asked you to Be the Inspiration in your clubs, in your communities, and in the world. Your response was an inspiration to me. You are paving the way for Rotaractors to become our future leaders, helping start new Rotaract clubs and working to include Rotaractors in Rotary events and projects in your communities. You are working hard to eradicate polio, participating in 4,200 events in more than 100 countries for World Polio Day. And you are carrying out transformative projects that will create lasting change in your communities and in the world.
This year, I also saw how Rotary's work to build peace is bearing fruit. The 98 Rotary Peace Fellows studying at our peace centres will soon graduate, joining more than 1200 others in applying their conflict resolution skills to problems that need solutions. And this month, Esther and I will travel to Hamburg, Germany, for a convention, where people of all races, nationalities, religions and political backgrounds will unite because they want to make the lives of all people better.
Seeing what Rotary means to people – to the communities we serve and to Rotarians themselves – has deepened my affection and admiration for all that Rotary is and does.
Soon it will be time for Esther and me to return home to Nassau. When we get there, I will look out on the vast sea that surrounds our island, and it will remind me of Rotary's limitless possibilities, and of the amazing future that awaits us beyond the horizon. I look forward to sailing there with you.
Barry Rassin
President, Rotary International 2018-2019