New Zealand Place Names - 21 March 2023
Tue 21 Mar 2023, 06:00 pm - 8:30pm
Mana Cruising Club
Ngatitoa Domain (off Pascoe Avenue)
Porirua
Wheelchair Access, Accessible Toilets, Mobility Parking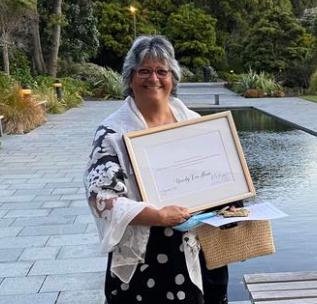 This evening, Wendy Shaw, Secretary of the New Zealand Geographic Names Board, will talk to us about some recent place name decisions, the restoration of Māori place names – especially language revitalisation and cultural identity, several projects (new maps, outreach initiatives and a virtual field trip video from a Board member).
Wendy was recognised at the Te Rā Ratonga Tūmatanui - Public Service Day Awards in November 2021 when she received the Public Service Commissioner's Commendation for Frontline Excellence at a ceremony at Government House.
At the time, Commissioner Peter Hughes said that 'Wendy is motivated by a spirit of service and a passion to help all New Zealanders feel a sense of belonging and identity, which she does by helping people to learn about place names and participate in place naming.'
Wendy has been the Secretary for the New Zealand Geographic Board Ngā Pou Taunaha o Aotearoa for over two decades. She has worked at Toitū Te Whenua Land Information New Zealand and its predecessor departments for 45 years in several areas including Survey Processing, Digital Cadastral Database maintenance and the Protection Mechanism for surplus Crown land set aside for Treaty settlements. The Board's role is to make place names official in New Zealand, its continental shelf and the Ross Dependency of Antarctica. Wendy manages a small Secretariat to support the Board's work by advising on and processing place name proposals. She helps the Board to achieve standardised, consistent and accurate best practice place naming, through a consultative process resulting in informed, robust and enduring decision-making.