Melbourne Cup Extravaganza - 2 November 2021
Tue 02 Nov 2021, 04:00 pm - 8:30pm
Mana Cruising Club
Ngatitoa Domain (off Pascoe Avednue)
Porirua
Wheelchair Access, Accessible Toilets, Mobility Parking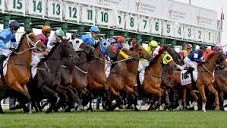 This evening is an opportunity to turn up as a 'well-dressed punter' and assemble at the Mana Cruising Club to watch the Big Race. As usual, veteran race organiser, Allan Nichols, will be in charge.
There will be the usual sweepstakes followed by a Casino Night with Spin the wheel and other gambling games. All money taken will be returned to punters in the form of prizes. This is to be a fun evening and not a fundraiser.
The Emirates Melbourne Cup is the most important race on the Australian horse racing calendar. It isn't called "The Race That Stops Two Nations" for nothing – Australia and New Zealand really do come to a halt for an afternoon to watch the Melbourne Cup.
Visitors will be welcome under the usual conditions of giving 2 days of prior warning.
In addition to taking a punt on the horses, there will be a competition for the most 'Fascinating Fascinator' and for the 'Best-Dressed Man'. This is an opportunity to be creative and demonstrate your flair and handiwork in creating your apparel.
This is the programme for the evening, although there may be more on offer when decisions have been made.
4.00-4.30 Arrive to be ready for the race at 5.00 pm.
Competition for best hat/fascinator, best-dressed man ...
Chocolate Wheel raffle
Dinner
More information will be available nearer the time.