Blog
Rotary Club of Plimmerton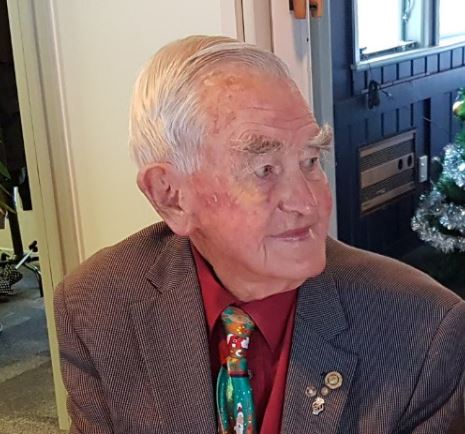 The undoubted highlight of last night's Christmas party was the celebration of Angus Langbein's fifty years' service to the Rotary movement.
Firstly, Phillip Reidy gave us an affectionate overview of Angus' life in Rotary, which has been one of great energy and variety.
Angus was a foundation member of our club in 1973. (He and Les Austing are the only surviving foundation members.) He was club president in 1985/6 when the average age of members was less than 50. He has been Youth Director, exchange student host, organiser of the inlet clean-ups, and tireless worker on Te Ara Piko. He was made a Paul Harris Fellow in 1995. Phillip noted that Angus would always ask "what can I do to help?"
There followed tributes from old friend Bevan Smith, himself approaching 50 years in Rotary, Adrienne Murray on behalf of the DG, Graeme and Christine Blick, and the President of Rotary International, Barry Rassin.
Angus then spoke in reply. Angus joined the Awapuni Rotary Club in November 1968, and shortly after that moved to this area and joined Porirua Rotary. The Porirua Club sponsored two new clubs: Tawa and then Plimmerton, so Angus has been a member of three clubs, Awapuni, Porirua, and Plimmerton.
He recalled the ups and downs of club venues and catering, and the fraught issue of women's membership, fundraising, and major projects, especially Te Ara Piko.
Angus then moved on to how Rotary has affected his life. He mentioned the four-way test, which he has tried to follow in his dealings with others. He values the contacts and fellowship he has made. Overall, he considers he is a better and more motivated person and is immensely grateful to Rotary for it.
The club gave Angus a standing ovation and President Donna presented him with a fine engraved mantle clock.
To be a Rotarian for fifty years means you were admitted at a young age and therefore seen as a person to be reckoned with. Besides Angus' professional achievements, he is a gentleman of the old school who manages, without any effort, to be both dignified and amiable. Congratulations, Angus, from all of us.