'It's Time I Wrote My Own Titanic Book' - 18 April 2023
Tue 18 Apr 2023, 06:00 pm - 8:30pm
Mana Cruising Club
Ngatitoa Domain (off Pascoe Avenue)
Porirua
Wheelchair Access, Accessible Toilets, Mobility Parking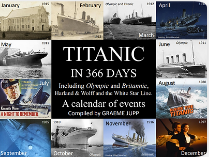 This evening we will hear from Graeme Jupp whose recently released book, 'Titanic in 366 days' was released last year. Although the book is not available in hard copy format, it is available as a free e-book. Graeme has kindly agreed to supply the weblinks from which the e-book can be downloaded.
Books always receive ratings and reviews and one such review written in June 2022 reads:
'When it comes to story of the Titanic, some dates are etched firmly into its history, such as its sinking on April 15, 1912. Or the discovery of the wreck site in the early morning hours of the first of September 1985 and the release of James Cameron's blockbuster film in December 1997. Yet there are events connected to the ship and its history covering every day of the year (yes, even February 29), as Graeme Jupp proves in his wonderfully illustrated and free eBook. Covering not only the Titanic itself but associated ships, films, TV documentaries, and people, Jupp presents a wonderful collection of events connected to the great liner, from the obvious to the delightfully obscure.
Graeme works as a cartographer (map maker) at Land Information New Zealand in Wellington. He has had a lifelong interest in ships, especially sailing ships and ocean liners. His interest in the Titanic dates back more than 40 years and he is a member of the US-based Titanic International Society. Maritime highlights include transatlantic crossings aboard Queen Elizabeth 2 and Queen Mary 2, and a voyage across the Pacific Ocean aboard the present Queen Elizabeth. In April 2012, Graeme undertook a seven-week 'Titanic Centenary Tour' of the United States, Canada, England and Ireland, including a memorial cruise to the wreck site in the North Atlantic. Graeme is also interested in New Zealand railways, especially the North Island Main Trunk and Rimutaka Incline, and the history of World War II
The sinking of the Titanic is undoubtedly history's most documented maritime disaster. Many hundreds of books published since 1912 have covered virtually every aspect of the tragedy, leading many to wonder "surely everything that can be written has now been written". Many historians and researchers recognise it is difficult to write about the tragedy from a fresh perspective. Graeme Jupp's e-book Titanic in 366 Days: A Calendar of Events covers the story from the perspective of specific events and the dates on which they occurred. It features a Titanic-related event for each day of a calendar year, including references to the Belfast shipbuilding firm of Harland & Wolff and the Liverpool-based White Star Line.
Graeme's presentation will chronicle his interest in Titanic literature, and the research and compilation of his book Titanic in 366 Days: A Calendar of Events.